The taste of water
Dignified, modest gestures
Akin to poise and manner in social interactions, gesture in calligraphy is interpreted as a visceral expression of the maker's emotional and mental state. In this way, the brushwork of WEN Zhengming 文徵明 (1470-1559) allows one to imagine a graceful and cultivated presence.
Viewing his writing, we can speculatively reconstruct the time of its making. We perceive that his brush balances control that is crisp and lean within a casual gait that occasionally lingers and lapses. Rich, dark ink evinces a choice of quality materials and careful preparation; even as the paper is modest - one thinks of the charm of conversation held forth with unadorned ease that makes no excess show of the speaker's ample experience. Even without reading this text – in which Wen describes a journey that took place over several weeks - we can readily believe that we are viewing the private journal of a discerning and mature gentleman, gliding through his well-measured days.
But should calligraphy to be identified with the writer's personality? and does 'good' calligraphy vouch for a moral (or genuinely interesting) life? Perhaps, perhaps not. Our understanding of these things is a matter of reading signs and leaving ourselves open to seduction – perhaps finally, whether brushwork is merely astute performance or the telltale trace of an absent mind-body is irrelevant.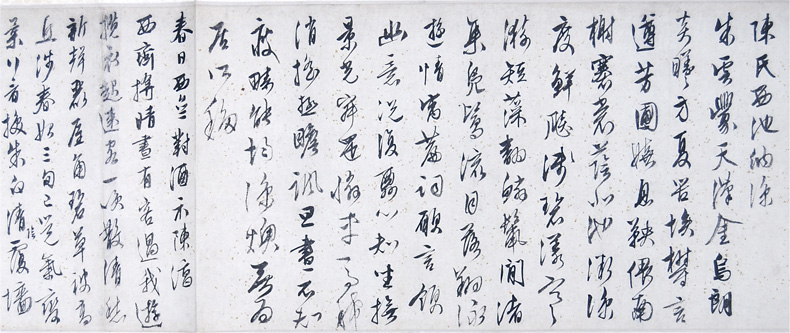 WEN Zhengming 文徵明 (1470-1559)

Landscape and calligraphy (dated 1508) (detail)
Handscroll, ink and colour on gold flecked and mica paper
29.8 x 181cm
Private collection